Your Online Products or Service
Develop Your Idea
You have decided

what your online products, or service is going to be and you have planned your website, or are in the process of organizing it. Maybe you already have a website and you want to create more customer traffic and bring in new ideas, or traffic solutions.
You are about to start your business

. You are excited and want to share your idea with the world. You have checked endless websites, asked your nearest and dearest and your friends for their opinions. As you research the possible demand for your online products, you become even more convinced that it is capable of being successful.
Okay now you have your trading strategy

. Then you have to decide, which comes first the chicken (your website), or the egg (product)? Remember each one is useless without the other. So start with your online product, or service. This will usually take longer to develop and get right
Its important to research your market and the type of customers, who will be interested in your product, or service. Your success depends on not skipping any of the stages in developing your ebusiness product. After all a Mazerati sports car, depends on all its working parts being in their correct place for it to work.
Remember to keep up the research

and create a list of possible products, like information ebooks ; online advice services, physical products, the list is endless. Along the way you will meet the inevitable doubters who try to influence you, but you're all fired up and, with some willpower, youignore them, then you begin to drive your inkling of an idea forward.
But wait have you done your homework well? Do you think your product or service will fit into your intended niche? Don't be influenced by some romantic notion. Stick to the hard facts, this is business after all. Think if you would buy your product and at the price you intend selling at. Askpeople you trust for their honest, maybe hurtful, opinion. Remember its a hard world out there and there is always a lot of competition.
Believe in your newly created online product

, and what is more important, believe in yourself. If you get stuck and things become difficult and frustrating, get some outside professional help. If you shop around, it does not need to cost a fortune. Remember, do not believe you are mighty mouse, who can manage everything about your eBusiness on his own. I have done this many times and I have a habit of frequently falling into this trap time and time again. So don't do it!
One big problem

newbies have is remaining focused on the job in hand, it is so easy to spend hours surfing the net, when you should be building your business plan, or developing your online products.
Remember when in doubt
Quality, Quality,Quality every time.


There is an old saying
buy cheap buy twice
and it has been proven many, many times. Getting the right
online product
is what it is all about. Think like your customer, would you buy your product, does it do anything for you? Will it last and will it make you come back again to buy from your site?
For advice and guidance on building your eBusiness and Business just fill in the optin box to the left and below the navbar. This is a totally free service and contains some on the web building secrets that could literally take you years to learn.
---
---
---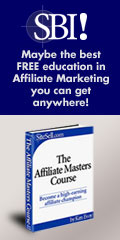 ---
Build a Convincing Sales Page
Its okay to have a great product, but remember to create a great sales page. Make sure that it is well written and totally convincing for people who wish to buy your product or service. Ask yourself, does it look convincing? Will it cover the needs of the market you are aiming for? Is it persuasive and real, or does it appear to go over the top and appear unbelievable? Ask yourself if you would you buy from a similar site? Choosing the right product to promote is just the tip of a very important commitment if you are aiming for affiliate marketing success. If you do it right, you can drastically improve your chances of earning a great income. So make sure that you do not just set up you sales page just for the sake of having one. Your sales page is a piece of the whole jigsaw of the sales process.
---
The New Marketplace
If you are looking for a great place to sell your products, or promote other peoples, by becoming an affiliate, then a new website similar to clickbank has recently been launched. They call it
Rapbank
and if you want to get up and running fast then this is the site for you.
---